Social Innovation Challenge 2019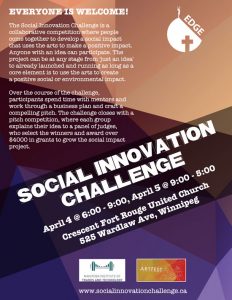 This past Thursday April 04 and Friday April 05 was the 2019 Social Innovation Challenge held at Crescent Fort Rouge United Church, and presented by EDGE: A Network for Ministry Development through The United Church of Canada. Anyone with an idea or start-up project for social innovation was welcome to participate. Participants were given space, a framework and professional insights to help them develop and present their pitch. At the end of the two days everyone presented their pitch to a panel of judges who awarded prizes in support of the contestants projects.
I was asked to be a mentor for the Social Innovation Challenge, helping the participants work on their pitch. Everyone who came out had wonderful ideas and projects that were all intended to help community for the better. It was an inspiring couple of days and I feel truly grateful to have been included.