Planoly
Visually plan, manage, and schedule your Instagram Posts with Planoly
Create draft grids to test out the look of content without having to commit to publishing. Make social media management easy by planning ahead with Planoly!
"Manage, plan and schedule your Instagram posts from your computer and mobile phones. Create a cohesive Instagram feed and manage multiple Instagram

accounts."

Planoly is an official partner of Instagram (and Pinterest too!) that makes it easy to plan your posts and preview them laid out as a grid, just the way they will look once they've been posted to Instagram. One of the best features is the ability to auto post your scheduled posts (I use Facebook Creator Studio to auto post too, see my post about it here).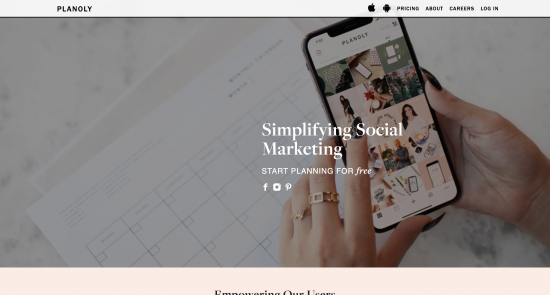 "It's the First visual planner for Instagram. Clear and to the point web and mobile app – PLANOLY is the most effective visual social media planner on the market (oh, and you can schedule too)!"
Planoly makes developing content easy with access to a free library of stock images. You can also track your success and learn more about your audiency with analytics insights.
And if you're into e-commerce, Planoly is great because you can add shop links to Instagram and tag your products on posts.
You can also use Planoly for Instagram stories!