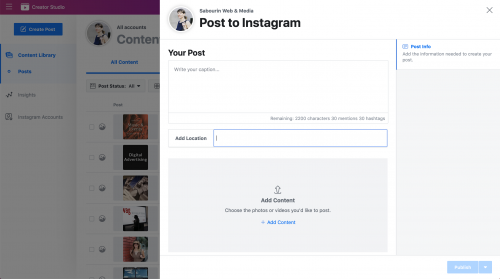 Social media managers rejoice! You can now plan, schedule AND post to Instagram from desktop!
For the longest time you could only post to Instagram through the mobile app. The desktop version of the app allows browsing of posts and profiles but there has been no option to post on desktop through the app. Facebook bought Instagram in 2012 and it was hoped this would change sooner but it is only recently that Facebook has made Instagram desktop posting and scheduling possible.
There have been third party hacks over the years but none too efficient. Even popular social media management platforms like Hootsuite and Planoly hadn't offered this until early 2018. Before that time they would promote that you could 'schedule' Instagram posts which meant inputting your content and 'scheduling' the post. When the scheduled time came, Hootsuite would remind you to post but you still had to do this yourself manually as always. So while 3rd party partners of Instagram have offered this since 2018, since August 2019 you can auto post and schedule with Facebook too. I am very excited that scheduling and posting Instagram posts is now more efficient than ever with Facebook's creator studio.
"Creator Studio lets creators and publishers manage posts, insights and messages from all of your Facebook Pages in one place."
Check it out here —->